Nothing says football quite like DNA testing, eh?
If your eyebrows just arched into a look that says, "What the heck?," well trust us when we say that we were wearing the same expression when we first learned about a since-postponed promotion planned by the Baltimore Ravens.
Apparently, the rally towels, hats, shirts, cups, and bobbleheads that dominate sports teams' gameday giveaways were too blasé for the NFL team. To mix things up, the Ravens intended to give fans attending last weekend's home opener against the Cleveland Browns a genetic testing kit.
The unorthodox giveaway was part of a promotion, dubbed "DNA Day," that was sponsored by Orig3n, a Boston-based company that offers genetic testing. The freebie package included a DNA testing kit and promotional materials that bore Orig3n and Ravens branding.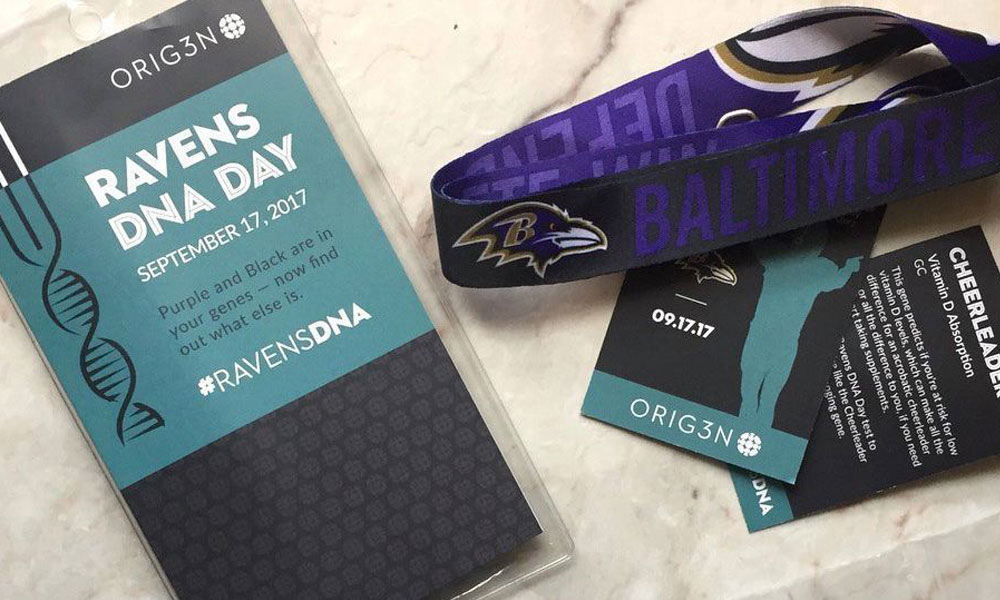 Had the promotion gone forward, it would have reportedly afforded fans insights into their genetic makeup. They would have swabbed the inside of their cheek, then dropped the sample into a stadium bin, registered with Orig3n online, and later received DNA testing results – all for free. In particular, Orig3n intended to test four genes, including one called ACTN3, which can reportedly reveal if a person is predisposed to excel in physical activities like sprinting. Orig3n also aimed to test a gene that the company says can help predict an increased risk for low levels of Vitamin D.
While the Ravens lauded the promotion as "one of the most innovative events a partner has ever spearheaded," the planned mass collection of individuals' DNA sparked concerns about privacy. For example, Bethesda-based attorney Bradley Shear told The Baltimore Sun that he had "serious concerns about the privacy, safety and security of the data being collected, and if fans understand the legal ramifications." Shear's practice specializes in privacy, sports and technology.
"There's nothing in this that I think is a good idea," Toni I. Pollin, an associate professor at the University of Maryland School of Medicine, told the Sun. "The tests they're talking about doing are not going to be useful for a particular individual."
Ultimately, the promotion was postponed following "unspecified" concerns from Maryland state officials. Orig3n said it is working to address the concerns and aims to hold the promotion later this season. "We received an overwhelmingly positive response to the first-ever DNA Day, and we remain committed to our mission," Orig3n said in its statement. "We look forward to continuing our partnership with the Ravens."
That's well and good, and if fans are into it, then cool. But for us, we'll stick to bobbleheads and caps.
Compiled by By Christopher Ruvo/ASI